FDNY Hispanic Society
Read our latest and past news as well as our upcoming events.
1 minute reading time
(96 words)
FDNY Hispanic Society presents "Made in Peurto Rico" starring Eil castro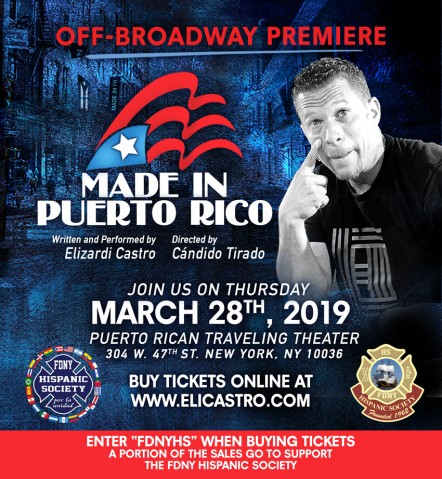 JOIN THE FDNY HISPANIC SOCIETY! On March 28, 2019
Come and enjoy a theatrical event for the entire family as we celebrate Latino culture through an evening of entertainment in the Off-Broadway Premiere of "Made in Puerto Rico".
The event is hosted by the Puerto Rican Traveling Theater,
304 W. 47th Street New York, NY 10036.
Tickets are on sale starting at $40
and can be purchased at through the link below
Enter promo code "FDNYHS" when buying tickets. A portion of the sales will go to support the FDNY Hispanic Society.
https://ticketcentral.com/Online/mapSelect.asp?sToken=1%2C498fc366%2C5c8142aa%2CE9CB8864-3E6D-43E0-9FB2-034B60FE0637%2CTpQNfKmnK3w%2BV0cu5fmrRQ6cVJY%3D&BOparam%3A%3AWSmap%3A%3AloadMap%3A%3Apromocode_access_code=fdnyhs&doWork%3A%3AWSmap%3A%3AloadMap=Go
Stay Informed
When you subscribe to the blog, we will send you an e-mail when there are new updates on the site so you wouldn't miss them.