1 minute reading time
(137 words)
Puerto Rican Parade march and after party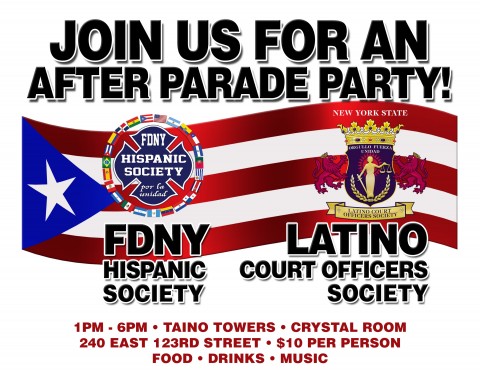 Hello Members, Family, and Friends,

Please join us and Celebrate Puerto Rican pride by marching with the
FDNY Hispanic Society, Sunday, June 10th. Our Beloved Island was devastated by hurricane Marie last September, let us show our support for the families and friends affected not only on the island but here in one of New York City's largest annual ethnic parades.

Meet up on 44th Street (between 5th Avenue and Madison Avenue) - facing 5th Ave.

Time: 1000 Hours (Vehicles: 0900 Hours).

FULL CLASS "A" UNIFORM TO MARCH
Immediately after the march, join us for our "after the parade" celebration.


Taino Towers Crystal room (4th floor)
240 east 123 rd street bet 2 cd and 3rd Ave
Adults $10, (13 and under free)
Can not wait to see you all!

T-shirts and raffle tickets will be available for purchase, Buy your Station/Company Number before its gone
By accepting you will be accessing a service provided by a third-party external to https://hispanicsocietyfdny.com/