Miguel Angel Flores - EMS Liaison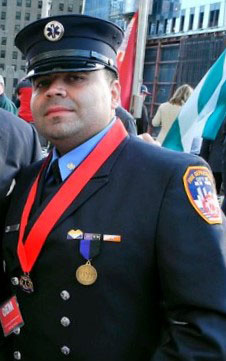 MIGUEL ANGEL FLORES
FDNY Hispanic Society EMS Liaison

FDNY EMS Lieutenant
Being Hired by the Fire Department of New York in 1999, Miguel Angel Flores's Career quickly began to escalate. Being an EMT, he felt his career was becoming stagnant only after being an EMT for 1 year. He took it upon himself, to work as an EMT during the Overnights, as he attended Medic school during the evening. While In Paramedic School his motivation to help others was taken to another level, after he survived the 911 attacks In NYC. Many thought he passed away but later was found digging in the trenches with his fellow brothers and sisters that day. He searched along with many as he felt that bond of "BROTHERHOOD" as they all strived to save as many lives that they could. Miguel's Motivation was one that took him to move up quickly with out looking back. in 2002, Miguel Became a Paramedic for FDNY, and later became a member of FDNY's elite Special Opertations Urban Search And Rescue Task Force, and a member of FEMA New York Task Force1.
During his career he has received numerous Pre-Hospital saves, and was a Recipient of The Jack Pintchik Medal, which is the Highest Life saving award, any member of the EMS command can receive.
Miguel Angel Flores is also the Team Captain of one of the most sought out teams The EMS Fire department Softball team, his team remains undefeated and they continue to hold that record. What does he do outside of the work element?
Miguel Flores is also a Course Lab Instructor, and has taught many EMT's, and Paramedic's life saving skills and lessons, who have also moved on to become Strong Reputable Fire Fighters. Not Only does he love the Job, he loves his roots and roots music.
Miguel Angel Flores is also Known as Miguelito, as he has performed with many Latin artists, including Latin Grammy nominee Fragancia From DLG, and has toured and work with the Famous Bomba Plena Fusion Group Yerba Buena. Miguel Angel Flores brings an element to the FDNY Hispanic Society, by helping bridge a Gap, of EMS and FDNY. He is followed by many, and is a very stand up indiviudal, and a Distinguished Gentleman, and is known to grab the bull by the horns, when people are bullied on the job, and is a very outspoken Latino! Miguel Angel Flores Recently was Promoted to Lieutenant in the EMS Command.
Miguel Angel Flores has Also represented FDNY/EMS by being interviewed by Channel 41, and Channel 47, and the Verizon network! "Estoy orgulloso por el puesto en Qual Presidente Jose Prosper me a dado. Juntos puedemos representar nuestros Latinos, en mucho medios en qual nunca se han dejado saber! Said Miguel upon a recent interview of his newly appointed position! For those that didn't understand reading Spanish, he said " I am proud of the position , in which President Jose Prosper has given me. I look forward in working with all my Latinos, in FDNY and helping us Create a name in which many will learn of!